We offer a variety of Storage Unit sizes, Exterior and Covered Parking, U-Haul Rentals and Moving Supplies. 

Come check us out and let our friendly management team assist in solving your storage and moving needs.

We Love Referrals!!!

Refer a new Storage City customer and receive 25% off 

your next months rent.

Easy Access

Extra Wide Driveways

Video Surveillance

Fence & Lighting

Computerized Gates

Over Size Doors

Month-to-Month Leases

  Insulated Roofs Prevent Moisture & Heat Buildup

External & Covered Storage - RV's, Boats, Trailers

Pay In Advance Discounts

All Popular Sizes +

S & L Enterprises, LLC STORAGE CITY

1230 W. 6th Ave.

El Dorado, KS  67042

(316) 321-1210

1230 W. 6th Ave. El Dorado, KS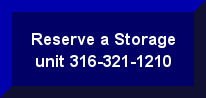 On-line Privacy Policy

We collect from you  only the personal information you voluntarily provide in order to deliver the best possible service.  If you choose to process an on-line payment or reservation we ask you to provide us with information necessary to complete your transaction including, but not limited to, name, physical address, telephone number, e-mail address, company name (if applicable), credit card number expiration date, storage unit number and gate code.

We collect your email address so that we can send you information about your transaction and it's status.  The credit card information that is collected is used strictly for billing purposes.

Storage City does not sell information to third parties.

Storage City reserves the right, at it's sole discretion, to change, modify, add or remove portions of this On-line Privacy Policy from time to time.  Accordingly, Storage City recommends that you revisit this Online Privacy Policy from time to time to ensure that you are aware of the current privacy practices.  Your continued use of the website following any changes signifies your acceptance of these changes.

Double click here to add text.

Double click here to add text.

NOW AVAILABLE

CLIMATE

CONTROLLED

UNITS

Call for more Information